Introducing our Slab Pallet Range



Mid and West Wales Welding of Machynlleth proudly introduces our unique design for the safer storage, moving and handling of paving slabs. This robust, fully galvanised steel slab pallet will revolutionise the way slabs are transported, handled and stored within your yards.

Key Benefits

* The angled design and incorporated stay vastly improves occupational safety management by maintaining slab stillage
* The slab stillage design likewise significantly reduces losses from damage once the slab pack has been opened
* Easier and safer handling by hand and fork-lift machines alike
* Constructed to be both robust and weatherproof
* As a consequence of the robust and weatherproof construction, they represent a "one off" purchase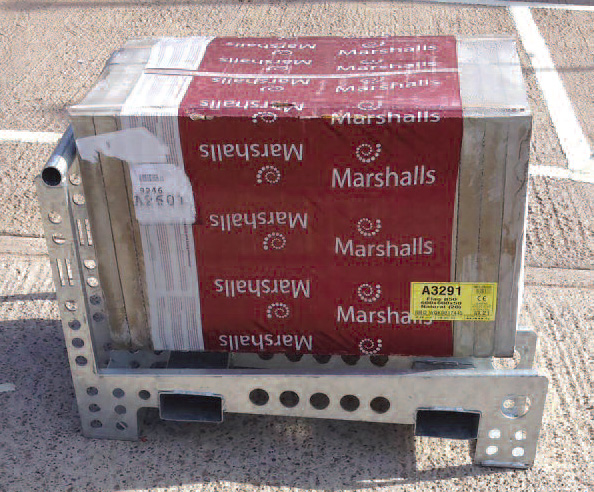 The Design



We were approached by Travis Perkins Ltd to design a pallet to facilitate easier movement and storage of slab

packs around their yards. The design was to allow for safer handling of the slabs on site and to minimise

damage to the slabs once the pack was opened.

The pallet was also to be robust enough to withstand heavy handling by forks and finished in such a way to

protect it from the elements. In conjunction with Travis Perkins we designed three pallets, the bi-directional, tri

-

directional and tri-directional plus. These pallets are now used in every Travis branch nationwide, as well as

other smaller builder's merchants and County Council highway departments.



Details of our three designs



Bi-directional



* Can be picked up from 2 sides


* Manufactured from 8mm steel




* Fully Galvanised




* 860 mm x 1080 mm

Tri-directional



* Can be picked up from 3 sides


* Slightly longer than the bi-directional




* Manufactured from 8mm steel




* Fully galvanised




* 860 mm x 1140 mm

Tri-directional Plus



* Specifically designed to take the Eaton slab pack


* Multi directional pick up from 3 sides




* Manufactured from 8mm steel




* Fully galvanised




* 860 mm x 1278 mm
Our offer

* We can manufacture and supply from a single unit to thousands
* We can alter the design to suit your specific needs
* We are competitively priced
* We can visit your premises with a pallet so you can see it in operation, with no obligation



If you require a price for any of our pallets or would like to discuss an adaption to suit your product needs, then please get in touch via telephone or email.